Javier Mascherano's outing in the Copa del Rey final against Deportivo Alaves didn't last long, as the veteran defender suffered a head injury that required him to leave the pitch on a stretcher after just 11 minutes.
The Argentine defender had a coming together with Alaves' young Spaniard Marcos Llorente and immediately started bleeding from his forehead. He also seemed to twist his knee while landing and held his leg.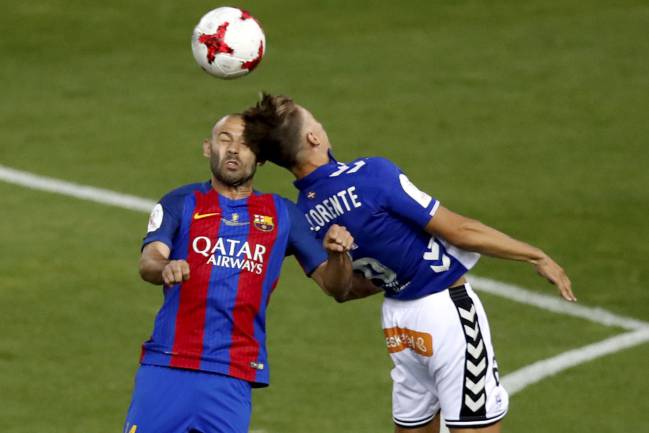 Two players challenging to win the ball and their heads clashing together. This time it looks serious though as blood starting gushing out of Mascherano's head
Medical staff were quickly treating him and the former Liverpool man was stretchered off and would not feature again. He was replaced by Andre Gomes.
Last year his final came to a premature end too when he was sent off in the 36th minute.
Llorente, for his part, was also treated on the pitch and was able to continue with a garment to protect his head.
And Barca confirmed on their official Twitter account that he had also suffered further injuries
during the 3-1 victory over Alaves
.
The tweet said: "Mascherano has suffered a cut, which needed stitches, and concussion as well as a injury to his right knee which will require further tests."